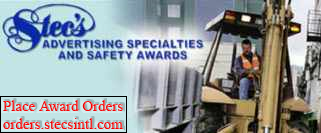 Our professional staff will design a program to specifically address your problems and establish monthly goals. Your workers achieve goals and earn awards. The goals are featured in a catalog filled with many desirable products in a wide price range.

The benefits of this approach are:

Short term goals (monthly) motivate your employees, because they believe they can achieve them.

Each employee receives an award redemption catalog, customized with your company's logo.

He or she takes the catalog home, and the family gets involved.

Your employees get to choose their own awards, rather than you trying to find a single award that appeals to everyone.

Awards can also be earned for Team Performance. This gets your employees working together more efficiently.

Once the program is in place, we administer it, saving you time.

This program is flexible! As your company's needs change, the program can change with you.
| | |
| --- | --- |
| | Click here to hear how Stec's Safety Incentive Program has worked for Denver Water/Municipal Water Co. |

You Pay Only AFTER You've Achieved Your Goals.

Program costs are realized only after your employees have achieved your objectives.

Because programs are customized, each one works differently, depending on the company's goals. In simplified form, an employee earns monthly safety bucks or points. The bucks or points can be exchanged for an item from the catalog. Team awards can also be established.